AIR COM - The next generation aircraft radio
AIR COM is our next generation radio with 8.33kHz channel spacing. Together with the AIR Control Display it offers many new functions like an audio equalizer, GPS based frequency selection, or controlling our mode-S transponder.
---
Filled with new technology - easier than ever before
AIR COM breaks new ground. The simple operation and meaningful functionality helps to reduce our cockpit work loads. The flexible family-concept is easy to install. An AIR COM installation always consists if an AIR COM main unit and - depending on aircraft type and requirements - one or multiple AIR Control Displays.
AIR Control Display
The radio is one of the most used instruments during flight. Still, today most radios feature small displays and often a cumbersome operation. AIR Control Display has the largest display in its class and simple, robust controls which are perfectly usable even in turbulence or with gloves. The color display performs extremely well in sunlight and shows all information large and clear. Letters and numbers are significantly larger than in current radios.
AIR COM
AIR COM uses modern technology. It is by far the smallest and most lightweight aircraft radio unit on the market. An audio equalizer allows for the first time to improve clarity by adjusting the sound output. The digital design makes a broad variety of functions possible, like intercom, audio mixing, or individual adjustments to sound input and output. AIR COM features simultaneous monitoring of two frequencies at once ("dual watch").
---
Frequency Database
AIR Control Display features a comprehensive frequency database. With this database, frequencies can be selected easily with selecting the desired airport or airspace. The database can be updated with the integrated microSD memory card. The integrated memory also allows for storing user-frequencies.
GPS Interface
With the integrated GPS interface, a list of nearest airports or airspaces can be displayed and corresponding frequencies can be easily selected.
---

Radio and transponder - controls in one device save space
For the first time it is possible to combine the control of a radio and an external MODE-S transponder into a single compact 57mm instrument. To facilitate this, a mode-S transponder (the AIR Avionics VT-01 main unit) can be connected to the AIR Control Display. Panel space is precious, displays get larger, and an ever growing number of instruments needs to fit into shrinking panels. AIR COM comes to rescue. Directly connecting the mode-S transponder to the AIR Control Display means that both instruments together only need a single small 57mm cutout. This is a big step towards more panel space and saves costs.
---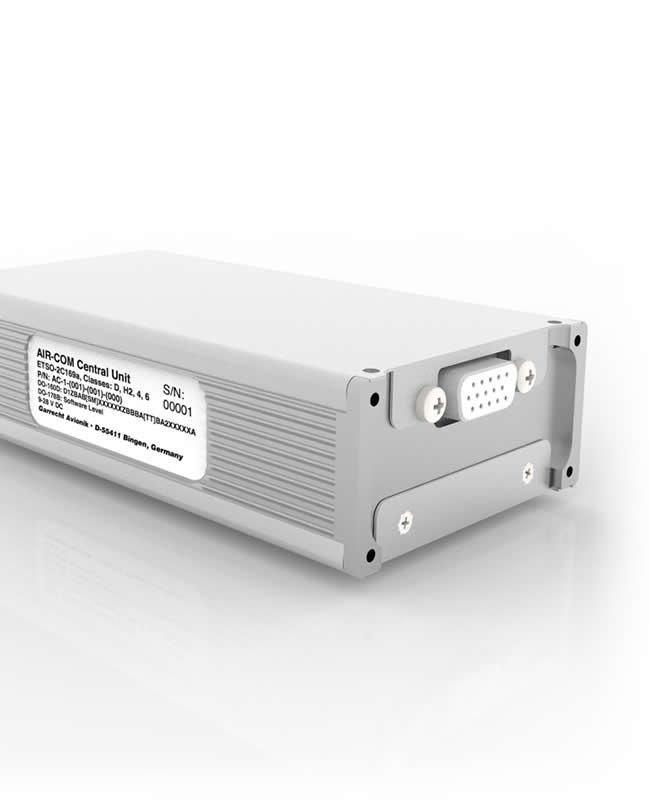 Compatibility
With optional connector adapters AIR COM can easily be retrofitted in existing installations without the need for new cabling. AIR COM will also offer an open protocol for the communication with third-party devices - like navigation systems which can act as remote control for the radio.
Installation
AIR Control Display fits into a standard 57mm cutout. AIR COM and AIR Control Display can be installed as one unit with a depth of only 141mm or as two separate blocks with a depth of only 60mm for the AIR Control Display including its cable connectors.
Price
The AIR COM main unit is priced €1099 (incl. 19% German VAT), the AIR Control Display is €599 (incl. 19% German VAT). Both units together cost €1698 incl. VAT which is approximately the average market price for a modern radio.
MODE-S /ADS-B Transponder
The optional mode-S transponder (VT-01 main unit) is a proven design and installed in thousands of aircraft around the world - without the need for a second control head it is even more affordable. VT-01 starts at 1650€ incl. german VAT.
Availability
AIR COM is currently under development and certification. Initially we had planned to begin shipping first units by end of 2016, however had to postpone delivery. We will not ship units this winter, however we work hard on releasing AIR COM as soon as possible in 2017. We expect units to ship long before the 8.33kHz conversion deadline.